---
---

Thank you for visiting our site! Renfrew County United Way (RCUW) is a community of caring donors and energetic volunteers in eastern Ontario who work year-round to support our communities' needs.
As a not-for-profit, registered charitable organization, RCUW relies on the on-going generosity of many people, organizations and businesses within the 23 municipal jurisdictions it serves. Without their continued support, there would be no United Way.
We invite you to enter our website to learn more about who we are, what we do and who benefits from our work. We also invite you to help us help your community by getting involved as a volunteer or by becoming a donor.
Remember . . . Change Starts Here!
---
---
Announcing United Way Critical Hours one time grant Call for Proposals
**This grant is an Additional Grant Opportunity, and does not replace our Existing Annual Grant Application.
The United Way/Centraides of Prescott-Russell, Ottawa, Lanark and Renfrew Counties are accepting applications for funding as of February 17th 2017.
Applications for this Call for Proposals must be focused on Critical Hours for children aged 6-18 years. See page 4 of full details of this Call for Proposals for more information.
Funding Priorities:
Applications that focus on under-served rural areas; and/or
Applications that demonstrate how youth are engaged in the development of the program and or program leadership.
Applications that do not meet at least one of the two funding priorities will not be considered. The deadline for applications is Wednesday, April 5th, 2017 at 1pm. All applications must be submitted online through the Agency Portal at: https://uwco.smartsimple.ca
Agency Information Sessions:
We are offering Remote access/Call in Agency Information Sessions on the following dates:
February 7, 2017 2 - 3pm – English
February 8, 2017 10 - 11pm – French
February 13, 2017 10 -11am - English
Registration is required, in order to receive login instructions registration for each session, closes 24 hours before the chosen session. Register Now
Answers to FAQ received by March 3, 2017 will be compiled and posted at https://www.unitedwayottawa.ca/agencies/ by March 9, 2017.
Contact CFP_Questions@unitedwayottawa.ca with any questions.
Please note that the grant application process is being administered by United Way Ottawa on behalf of the United Way/Centraides of Prescott-Russell, Ottawa, Lanark and Renfrew Counties.
---
Warden Emon Recognizes Outstanding Community Champions.


Fifth Annual Warden's Community Service Awards Presented at County Council.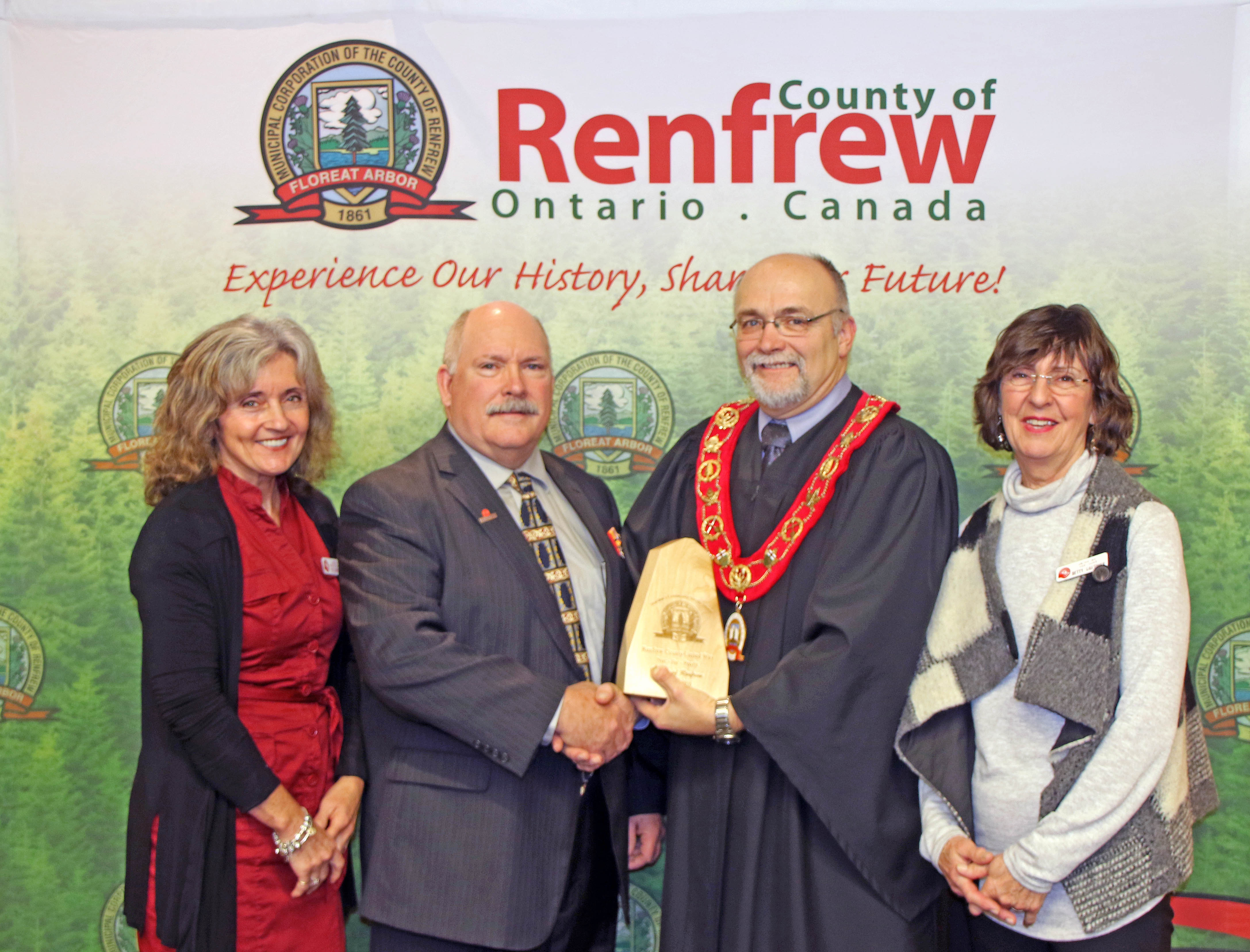 PEMBROKE, (ON): County of Renfrew Warden, Peter Emon presented this year's Warden's Community Service Awards at November's session of County Council. The awards were presented in three categories. Renfrew County United Way was honoured as the not-for-profit organization, Pastway Planing was honoured as the recipient of the business category, and Mr. Leonard Hopkins was posthumously honoured with the individual award.
The Warden's Community Service Awards recognize and promote the outstanding efforts by community champions in Renfrew County. Warden Emon expressed his pleasure in bringing to light the excellent contributions the recipients have made to their communities. "Today's awards recognize the outstanding efforts by community champions in Renfrew County. We honour them for their active roles with social responsibility and community contributions. It is with great pleasure that I am publically acknowledging the excellence of these organisations and individuals for their efforts in making Renfrew County better, and for the great way they inspire others to follow their examples."
Chief Administrative Officer Jim Hutton in his address to council stressed the importance of the awards and the value of rewarding those who contribute in a positive manner to the County of Renfrew as a community. "Everyday individuals, businesses and organizations make valuable contributions to our community. These contributions are not limited to employment or creation of wealth. Individuals, businesses, and organizations also make important decisions and take real action regarding their social responsibility in Renfrew County."
Each year, A Selection Review Committee comprised of the County of Renfrew Warden, Chief Administrative Officer, and one member of County Council select the award recipients. Nominees are considered in each of the three categories: Individual Person, Not-for-profit Business, and For-profit Business. All nominees are considered on the basis of criteria as to how they contribute to the County of Renfrew's Quality of life.
---
KI Cheque Presentation
Front Row, Left to Right: Bonnie Farrell, Wendy Stone, Pat Lafreniere, Janet Kendell. Back Row, Left to Right: Harry Lane, Dan Mellen, Ioan Berce, Shawn Cybulski, Gary Hass, Ralph Barker, Tom Chaput.
---
Arnprior Aerospace Donates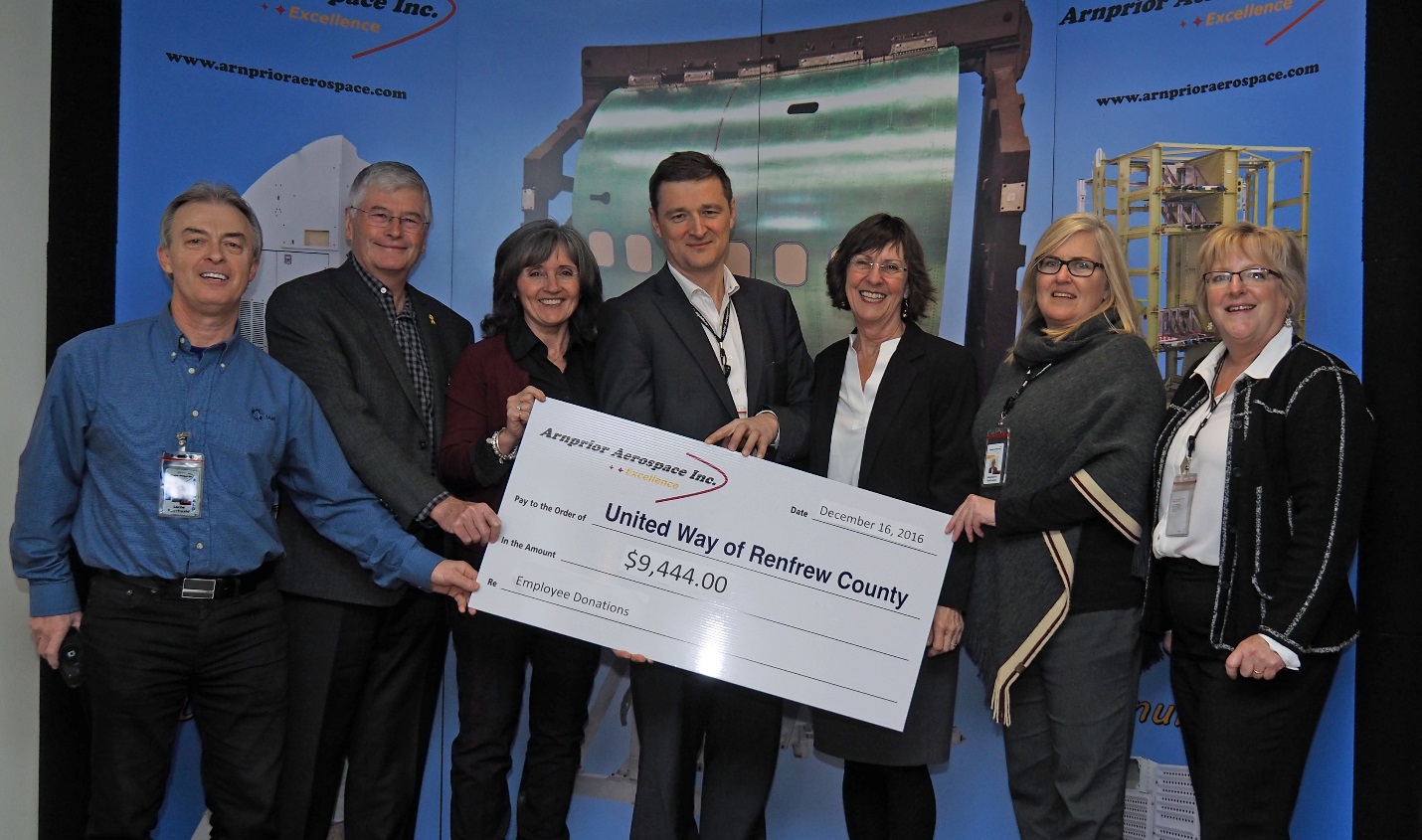 Employees at Arnprior Aerospace were pleased to present representatives of the United Way Renfrew County with a cheque in the amount of $9,444.00 representing a week-long campaign of fundraising events at the site and a new record for total donations. Pictured (l to r) Lorne Rueckwald, VP IAM Local 1542 at Arnprior Aerospace and campaign team member, Tom Coates, United Way Board Member, Pat Lafreniere, Executive Director, Renfrew County United Way, Laurent Ducom, Vice President/GM at Arnprior Aerospace and campaign sponsor, Betty Gauthier, Vice-Chair Renfrew County United Way, Stephanie Redmond, Human Resources Director at Arnprior Aerospace and campaign team member, and Anne Cheslock, Executive Assistant at Arnprior Aerospace and campaign team leader.
---
CNL employees raise over $113,000 for Renfrew County Organizations
Chalk River, December 14, 2016 – Canadian Nuclear Laboratories (CNL) announces that charitable contributions through their Chalk River United Way campaign totalled $113, 300. This outstanding result places CNL once again as the single largest campaign fundraiser for the Renfrew County United Way (RCUW).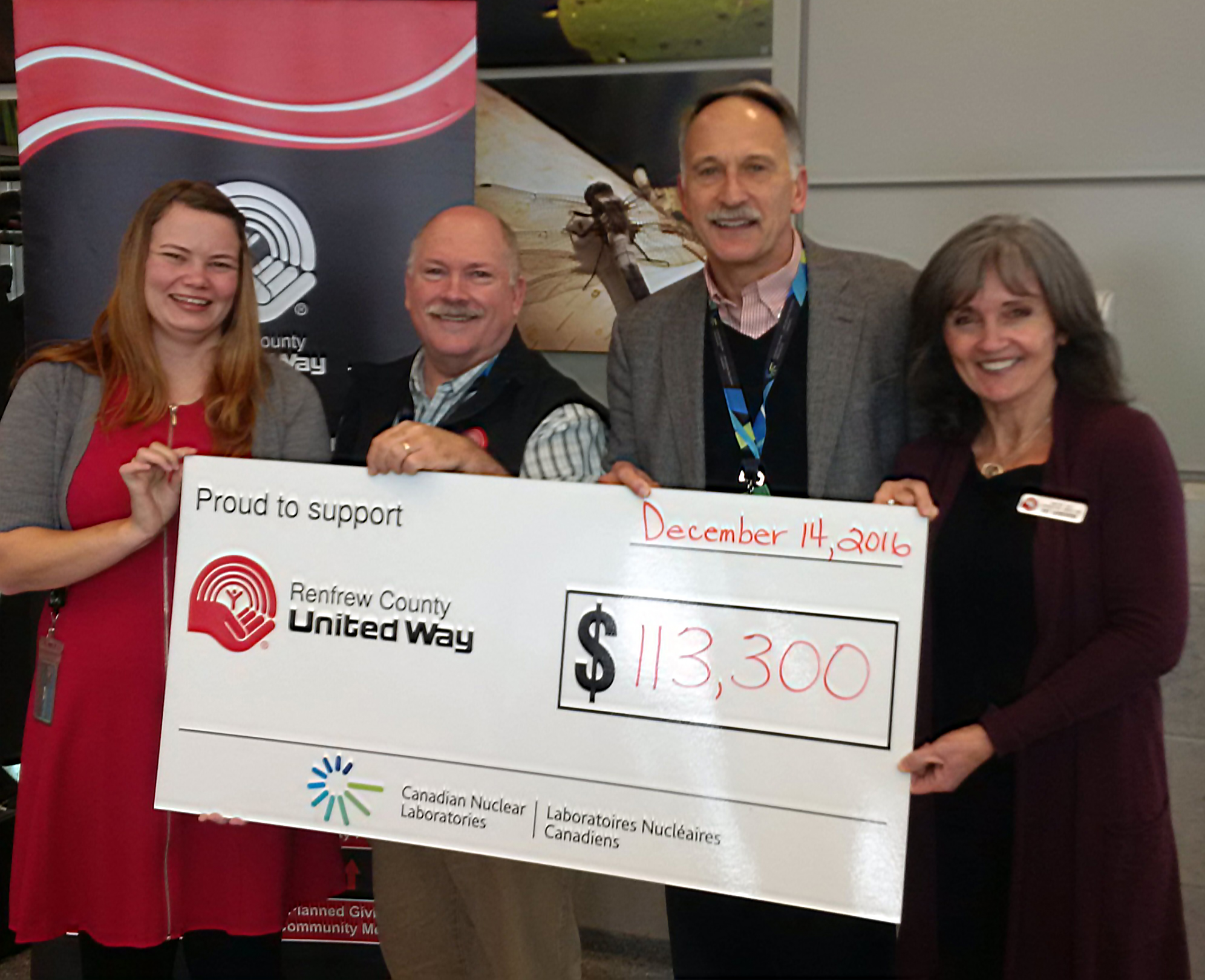 CNL employees have been raising funds for the United Way since the early 1960s. Campaigns are held at other CNL sites in Port Hope, Ontario and Pinawa, Manitoba. This year, CNL sites collectively raised over $156,200. CNL employees not only recognize the important role that United Way programs play across Renfrew County, but also across Canada.
"One year in and the staff here continue to impress me with their compassion and understanding of how valuable their donations are to the community we all call home. I'm extremely proud of the 2016 United Way campaigns across the organization with Chalk River, Whiteshell and Port Hope all raising outstanding amounts for their respective United Way branches," said Mark Lesinski, CNL President and Chief Executive Officer.
In addition to payroll and cash donations, CNL staff participated in various fundraising activities during the one-week campaign including the ever popular - parking auction and karaoke in the cafe and, new this year, a craft sale with all donated crafts made by our talented staff.
"This is my second year involved in the campaign and I am always so blown away by the commitment of our staff volunteers, they come with fresh ideas and exciting fundraising activities to engage our fellow employees and in return our employees answer the call to raise a wonderful amount for the Renfrew County United Way," expresses Lauren Kinghorn, CNL 2016 Campaign Chair.
Photo caption: Mark Lesinski, CNL President & CEO and Lauren Kinghorn, CNL Campaign Chair, proudly present Pat Lafreniere, RCUW Executive Director and Doug Tennant, Chair of the RCUW Board, with a cheque from monies raised during this year's 2016 CNL United Way Campaign.
About CNL
Canadian Nuclear Laboratories is a world leader in nuclear science and technology offering unique capabilities and solutions across a wide range of industries. Actively involved with industry-driven research and development in nuclear, transportation, clean technology, energy, defence, security and life sciences, we provide solutions to keep these sectors competitive internationally.
With ongoing investments in new facilities and a focused mandate, Canadian Nuclear Laboratories is well positioned for the future. A new performance standard reinforced with a strong safety culture underscores every activity.
For more information on the complete range of services Canadian Nuclear Laboratories please visit www.cnl.ca or contact communications@cnl.ca
---
A Special Meeting of Renfrew County United Way Members


December 5, 2016 @ 7:00 pm - 8:00 pm

Special General Meeting of the members of the Corporation will be held at Royal Canadian Legion, 202 Pembroke Street East in Pembroke on Monday, December 5, 2016.

The members of our Board have agreed in principle to a new collaboration and amalgamation with United Ways in Prescott-Russell, Lanark County and Ottawa.

Each United Way will continue to reflect their locally established identity using their current names. The funds raised by each United Way will continue to be invested to support people in their respective communities. Local staff and volunteers will maintain control over investment decisions to support their community's most vulnerable people.

As a result of this collaboration and amalgamation, all four United Ways will be able to access each other's knowledge and expertise. Once ratified by members, all four United Ways will be able to share resources including information technology, fundraising tools, marketing materials, community development research and more.

With a successful ratification, the proposed name of the new entity will be United Way Prescott-Russell, Ottawa, Lanark and Renfrew Counties, but each respective United Way will maintain its local name and brand in its region.

The new organization would begin operation on April 1, 2017.

Here are the complete details related to the meeting:
• Application for Letters Patent of Amalgamation
• Amalgamation Agreement
• General Operating By-law No.1
• Special Resolution

Here is a list of Frequently Asked Questions about this new collaboration and amalgamation.

Members are asked to register to attend the special meeting by December 3, 2016.

Registration: 6:45 p.m.
Program: 7:00 p.m. to 8:00 p.m.
Br.72 Royal Canadian Legion,
202 Pembroke Street East (upstairs)

For more information, please contact us at info@renfrewcountyunitedway.ca or call 613-735-0436.

* A member of Renfrew County United Way is any person who has made a contribution of $25 or more to Renfrew County United Way and who has applied for and been admitted into good standing as of November 5, 2016. Members must also provide a government-issued ID upon arrival at the Annual General Meeting to receive their voting cards.
PARENT CAFE - JOY'S STORY


When Joy first started coming to the Toy Bus program, she was completely exhausted, deflated and desperate for help. This mother was living in a very isolated situation in a small rural community and struggling with her preschooler's unruly behaviour. Joy very cautiously reached out to the Community Resource Centre (CRC) in Killaloe for help.
With funding from the United Way, we were able to provide a variety of supports. In the beginning, Joy was too nervous to attend mainstream community programs. She also had physical challenges that kept her from going out in public places or even for a walk with her child, for fear that she would not be able to keep her safe.
Staff provided one-on-one coaching in Joy's home and private play groups at our Ontario Early Years locations. We took Joy and her daughter out shopping and for walks down the street, role modelling how to positively support her little one, while providing clear boundaries to ensure safety. With the support of staff, Joy's parenting confidence began to grow and grow.
Gradually mother and daughter joined our Parent Cafe program with other families, making friends and sharing the trials and tribulations of raising children. Because of the extra support provided through the United Way's investment, Joy has found the confidence to start attending CRC's mainstream parenting programs with her daughter.
Today, the parent/child relationship balance is healthier. Mother and daughter still have their struggles like any family does but overall, they are doing great! Mom is better able to access the support she needs as a parent and child is thriving.
---

Renfrew County United Way Chair Doug Tennant attended the NRFS Board meeting on June 21st and presented a grant cheque in the amount of $20,500. These funds will continue to provide counselling through the Successful Relationship Building program. Pictured left to right are: (back row) - Julie Laderoute (CoChair), Kelly Hawley (Executive Director), Rick Janzen (Treasurer), Nancy Bourgoin, Jonathan Leslie (Co-Chair), Andy McKee (front row) - Doug Tennant, Claire Watts, Dé Groeneveld, Jeff Juby (Counsellor)
---
WE ARE LOOKING FOR NEW BOARD MEMBERS


Are you interested in helping to improve the lives of over 7,300 individuals in Renfrew County? United Way has some vacancies on our volunteer Board of Directors. If so, we we're looking for new Board members. We have three key focus areas: | From Poverty to Possibility | All that Kids Can Be | Healthy People – Strong Communities | Please contact Pat Lafreniere Exec. Dir. to discuss. By phone at: 613-735-0436 or email to: pat@renfrewcountyunitedway.ca Together, we are possibility.
---
Volunteers are the life blood of the Renfrew County United Way; of all charities. We salute your invaluable contributions and tireless efforts to help changes lives every day in our region. Thank you for all you do – Together, we are possibility!

Statement by the Prime Minister of Canada on National Volunteer Week
April 11, 2016 Ottawa, Ontario The Prime Minister, Justin Trudeau, today issued the following statement on National Volunteer Week:

"This week is National Volunteer Week, a time to celebrate and thank Canada's 12.7 million volunteers for the selfless work they do to help those around them.

"The theme for this year's campaign—Volunteers are the roots of strong communities—recognizes that volunteers are at the heart of healthy and resilient communities.

"We each have the power to make the world a better place. We can help a senior citizen who can no longer drive, mentor a young person in an after-school program, or welcome Syrian refugees to their new country. Volunteers look for opportunities to contribute their time, passion, and skill to make a positive difference in the lives of others. They believe—and know—that better is always possible.

"On behalf of all Canadians, I want to thank all the volunteers who every day accomplish extraordinary things and make Canada a great place to live."
---
Maximize your tax savings through charitable donations.
Visit - http://www.cbc.ca/news/business/taxes/tax-time-2015-8-ways-to-make-the-most-of-your-charitable-donations-1.2953353
---
Renfrew County Safe Shelter for Youth Receives $25,000 from Renfrew County United Way
The Renfrew County Safe Shelter for Youth recently received $25,000 for its initiative to provide a safe and caring environment for youth ages 16 to 21 in need of a safe bed where their immediate basic needs can be met. Columbus House (Pembroke) Inc., Family and Children's Services of Renfrew County, The Phoenix Centre for Children and Families, and the Renfrew County United Way formed a collaborative to collectively address the issue of youth homelessness in Renfrew County. "We believe that collective impact approach will produce profound and long-term results" says Arijana Tomicic, Executive Director with Family and Children's Services. read more here

In the photo are (left to right): Front row - Gail Logan-McMeekin, Executive Director, Renfrew County United Way and Megan Rousselle, Youth Outreach Worker/Safe Shelter for Youth Coordinator, Family and Children's Services of Renfrew County. Back row - Arijana Tomicic, Executive Director, Family and Children's Services of Renfrew County, Greg Lubimiv, Executive Director, The Phoenix Centre for Children and Families, and Tina Belanger, Executive Director, Columbus House (Pembroke) Inc.
---
Robbie Dean Centre opens new clinic in Eganville


by: Andrew Lafleche, Pembroke Daily Observer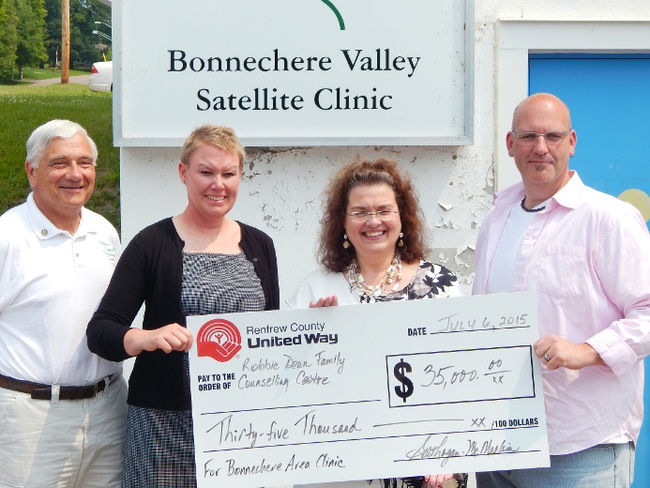 Renfrew County United Way presents cheque to The Robbie Dean Family Councelling Centre at launch of new satellite clinic in Eganville July 6. From left, Bob French (RDFCC), Monique Yashinskie (RDFCC), Gail Logan-McMeekin (United Way) and Tom Sidney (RDFCC).
EGANVILLE – July 7, 2015: The Robbie Dean Family Counselling Centre (RDFCC) celebrated the opening of their new walk-in clinic July 6th. The clinic is located at the West Champlain Family Health Team office at 75 Wallace St., Eganville. It will be open on the 2nd and 4th Monday of each month between the hours of 1 p.m. and 5 p.m..
"In September of 2014 we had four clinics going," said Monique Yashinskie, administrator for the RDFCC. "Through the generous support of the United Way we are able to open here in Eganville."
The United Way contributed $35,000 to the launch of this satellite location.
The RDFCC operates clinics in Petawawa, Pembroke, Renfrew, Arnprior and Eganville, with the intention to have "a clinic open somewhere in the county every day of the week." "We're just missing Barry's Bay," Yashinskie said.
In March of 2012, the West Champlain Healthy Community Corporation opened the Robbie Dean Centre with the goal of enhancing mental health services in Renfrew County. According to Statistics Canada, compared to other cities in the province, Renfrew County has very poor health statistics with above average rates in obesity, smoking, alcoholism and chronic disease. These factors are considered to be negatively associated with mental health.
Through collaboration with existing agencies, the RDFCC strives to "bridge the gap" in the current mental health system. "The idea is to keep people out of the emergency room," Yashinskie said. "We don't do long-term therapy. We help them, and then we navigate the system on their behalf, connecting them with where they need to go."
By working with the person who is in trouble, teaching them how to deal with their own crisis, and then working with the family, the RDFCC employs a wraparound approach to providing social services and education.
Tom Sidney, the clinics suicide intervention specialist, explained that the clinic serves to make help easily accessible. The clinic is set up for people to drop by, no referrals, no fees, and get the immediate help that they need.
"When an individual in crisis comes through the door," Sidney said, "we greet them, listen to them and allow them to vent and share their story, breaking it down from there." Specialists take the crisis and help the individual to envision where they want to be and then work backwards in order to determine where to start. "We do a lot of work with parents trying to understand their teenagers; we do interventions themselves as well as suicide prevention and education." Sidney said.
The RDFCC has served clients between the ages eight and 72.
The new Eganville clinic is located to be more accessible for those in Golden Lake, Pikwàkanagàn, Killaloe and Barry's Bay. On their first day open, they served three clients. "Based on start-up locations," Sydney said, "that's busy."
"Today is a huge day for the Robbie Dean Centre," Monique Yashinskie concluded. The RDFCC is relies solely on the support of the community.