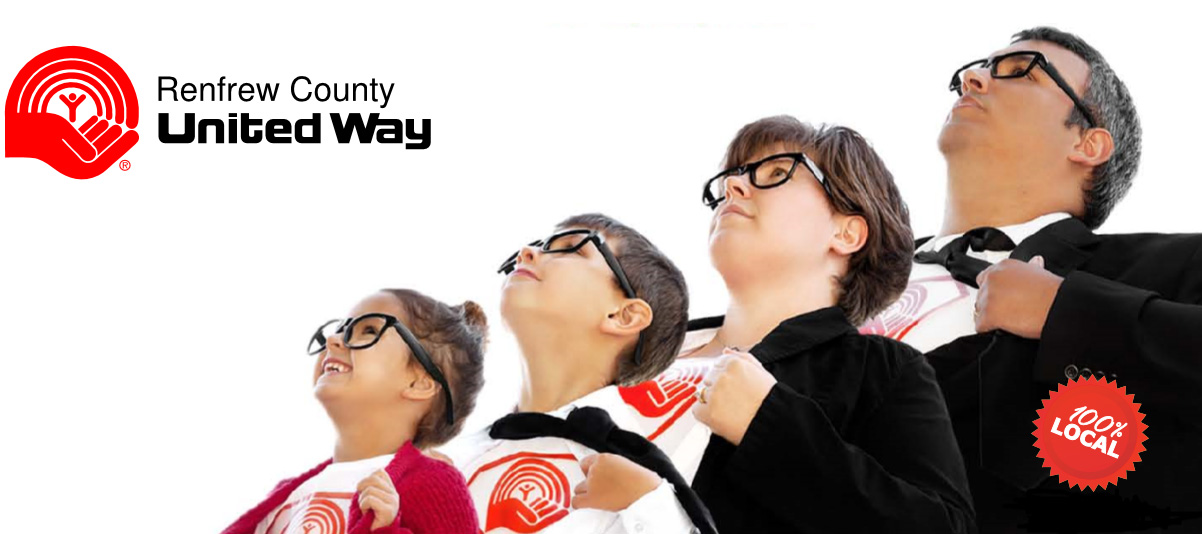 Renfrew County United Way (RCUW) is an autonomous member region of United Way of Canada/Centraide Canada. We are a Canadian charity, registered with the Canada Revenue Agency (10816 0029 RR0001) and with the Province of Ontario as a not-for-profit corporation. We fundraise on behalf of a number of health and social agencies in Renfrew County and work with stakeholders there to build the capacity of communities we serve.
The RCUW region consists of three districts:

Renfrew North, comprising the municipal areas formerly served by the Deep River District United Way, including the Town of Deep River, the Town of Laurentian Hills, the United Townships of Head, Clara & Maria, and the Village of Rapides des Joachims in Quebec.

Renfrew Central, comprising the City of Pembroke, Town of Petawawa, Township of Laurentian Valley, Township of Whitewater Region, Township of North Algona Wilberforce, Township of Bonnechere Valley, Township of Killaloe, Hagarty and Richards, Township of Brudenell, Lyndoch and Raglan, Township of Madawaska Valley, Nipissing, Unorganized, South Part, the Township of South Algonquin (Nipissing District), and three municipalities in Pontiac County, Quebec, including Chichester, Waltham & Bryson and L'Isle-aux-Allumettes.

Renfrew South, comprising the Town of Arnprior, Township of McNab-Braeside, Township of Greater Madawaska, Town of Renfrew, Township of Admaston-Bromley, and the Township of Horton.