100% local


Every penny of your donation will help kids be all that they can be; move people from poverty to possibility; and create healthy people and strong communities.
Share with your network

Where Your Donations Are Invested Right Now (2018/2019)!
Arnprior Family Pre-School
– Emergency basic needs fund to support young families and mental health support skill training for staff.
Boys & Girls Club of Pembroke – A variety of programs essential to promote learning and development: Clubhouse after School Program; Teens in the Kitchen and Teen Rec Nights; Critical Hours program for vulnerable youth.
Killaloe Community Resource Centre –
To work with engaged youth on leadership skill training and provide them direction on mentoring other youth in vulnerable situations.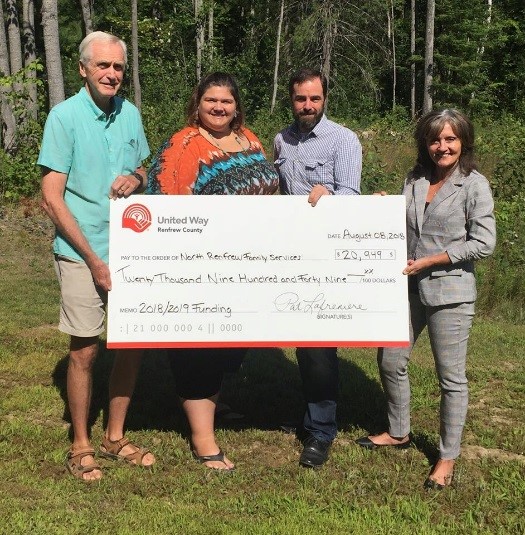 Hospice Renfrew - Mental Health Crisis support – Family
grievance counselling to support family members for a quicker recovery from the grieving process.
Family and Children's Services of Renfrew County – Safe Shelter for Youth program for youth who are at risk of homelessness.

ELEVATE – Promotion of services and events to area youth and agencies that support youth: Free Fitness facility, cooking classes, mentoring and support.
North Renfrew Family Services – Mental health and social programs as well as the Successful Relationship Building program.
The Grind Coffee House
-
Operation of a 3-bed homeless shelter for adults in Pembroke and provide with agencies mental health and social programs to help clients move towards wellness.
Petawawa Military Family Resource Centre – Pre & post-natal nutrition programs and family support to military families.

Galilee Centre – Monthly breakfast for seniors to promote social interaction and decrease isolation.
and


Dial 211 - Free information service offering direction to individiuals seeking help with social/ health issues. Details here.