HOUSING PROGRAM OFFERS SUPPORT FOR
SENIORS AND PERSONS WITH DISABILITIES
Ontario Renovates Accepting New Applications for County of Renfrew Residents To Access Funding For Home Repairs
Pembroke, ON April 22, 2014: The County of Renfrew, in partnership with the Province of Ontario, is pleased to announce Ontario Renovates will be accepting new applications effective Tuesday April 22, 2014 for funding to assist seniors and disabled individuals to access funding for upgrades to their homes to enhance their quality of life. Ontario Renovates is a program that provides financial assistance to homeowners by way of a forgivable loan to repair their home to acceptable standards while improving the energy efficiency and/or increasing accessibility of their unit.
Carol Neill, General Manager of Renfrew County Housing Corporation, explained that "the target groups for Ontario Renovates include low to moderate income seniors and persons with disabilities residing in the County of Renfrew. This is a great opportunity for some of our residents to make the necessary upgrades to their home and also improve their quality of life. I really encourage our local residents to inquire about this program. The program is based on a first-come, first-serve basis."
In order to qualify for the program, residents must meet certain criteria including but not limited to:
-The property must be located in the County of Renfrew;
-Applicants must own the home that is their sole and principle residence with a market value below $207,310;
-Applicants must have a total household income that does not exceed $70,100 which includes all sources of income .
In order to qualify for the program, there is a formal application process that is administered through Renfrew County Housing Corporation. Funding is provided in the form of a 10-year, interest free forgivable loan to homeowners based on the cost of approved work items up to $10,000. In addition, funding for accessibility repairs made to a home and/or unit up to a maximum of $3,500 is based upon the cost of approved work items, is in the form of a grant and does not require repayment. The application must provide supporting information and documentation as required.
For more information on this exciting new program, or to request an application package, please call 613-432-3679. Residents of the County of Renfrew can also download the application package by visiting www.countyofrenfrew.on.ca
---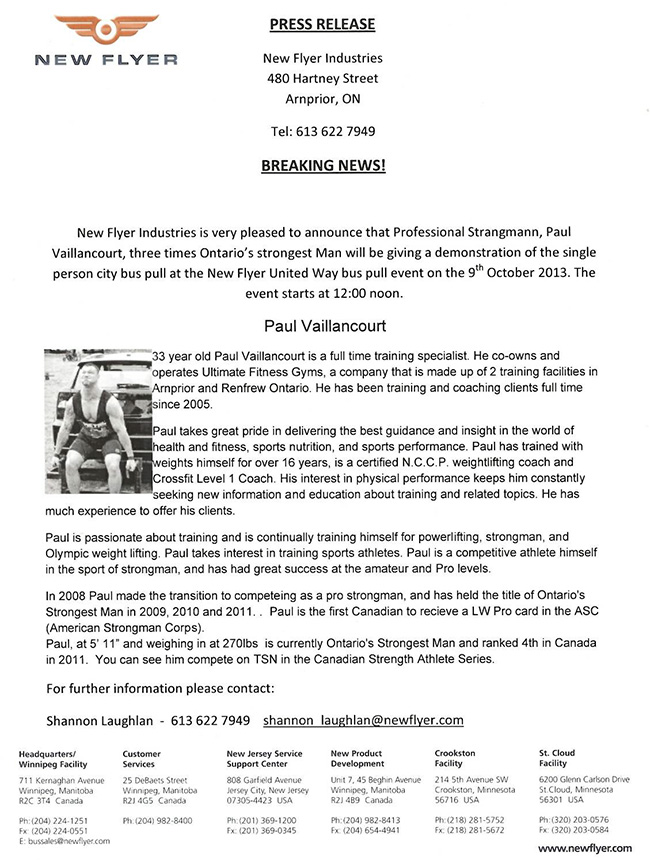 ---
UNITED WAY ANNOUNCES 2013 HONORARY CAMPAIGN CHAIR
…..Dr. Robert (Bob) Walker, President & CEO of AECL…..
FOR IMMEDIATE RELEASE: Pembroke, ON – Tuesday, August 20, 2013 – The Renfrew County United Way is very pleased to announce that Dr. Robert (Bob) Walker, President & CEO of Atomic Energy Canada Limited (AECL) Chalk River is the organization's 2013 Honorary Campaign Chair.
Board Chair Shelley Rolland-Poruks believes Dr. Walker's myriad of experience with Government of Canada Workplace Charitable Campaigns (GCWCC), as well as his leadership for several years of very successful campaigns at AECL will be a tremendous asset to the United Way this year.
"I've had the pleasure of working with Bob during AECL's annual United Way Workplace Campaign", Rolland-Poruks says. "He is such a passionate and strong supporter of United Way and his leadership at AECL has inspired employees to grow the largest annual workplace campaign that supports the Renfrew County United Way", she adds.
The 2013 Campaign will officially launch at a Kick-Off Breakfast event to be held on Tuesday, September 10th in Petawawa. In addition, the United Way Board of Directors has set a fundraising goal of $500,000 for this year's campaign.
"I'm excited by this opportunity to help our county's United Way meet its 2013 objectives. The United Way campaign is so important because proceeds are put in the hands of community organizations that are best able to address community priorities in Renfrew County," Dr. Walker states.
Prior to joining AECL in 2010, Dr. Walker served as Assistant Deputy Minister, Science and Technology of the Department of National Defence and the CEO of Defence Research and Development Canada. He is a Fellow of the Canadian Academy of Engineering and is a recipient of the Canadian Forces Medallion for Distinguished Service. Dr. Walker has been awarded an honorary Doctor of Science from McMaster University. He is the Chair of the Board of one of Canada's Networks of Centers of Excellence and he is also a member of the Board of the Pembroke Boys and Girls Club, a United Way funded agency for 2013.
---
First Cheque Presentation for 2013 Campaign
The Renfrew County United Way is off to a good start in 2013. On Tuesday, the Alterna Savings branch in Pembroke made a donation of $955 to the organization. The money was rasied through the Alterna Saving's fall spaghetti dinner held in 2012. Branch Manager Sean Dennison says it took awhile, but he and his team are pleased to finally donate the money.

New Executive Director of the United Way Gail Logan says she was thrilled to be a part of her first cheque presentation. Logan also mentioned that this was the first significant donation to the United Way in 2013.
---
United Way Funding Support 2013/2014
Media Release - CHANGE STARTS HERE
For immediate release – Wednesday, May 29, 2013 – Pembroke, ON – The Renfrew County United Way (RCUW) is pleased to announce the Renfrew County organizations that will receive funding as of April 2013 and continuing to March 2014.
The RCUW recently changed its funding model to align with its Strategic Priorities. As of January 1, 2013, United Way funds a different mix of agencies region-wide and is no longer funding a select group of agencies that were previously referred to as 'member agencies'.
Monies raised by the RCUW are now focused towards programs that bridge the gap between what is currently being funded (basic human needs and crisis services) and what needs to be the communities' primary focus (preventative measures and fixing the underlying cause of problems).
The organization is now directing more resources to addressing root causes and the RCUW encourages agencies throughout Renfrew County to partner, by pooling their resources and their intellects to come up with innovative solutions to the complex problems faced today.
A region-wide 'Call for Proposals' was issued at the beginning of July 2012 and by the deadline of September 30th, RCUW received 21 proposals from 16 area agencies. The proposals were evaluated during the fall of 2012 and the following organizations are receiving funding:
a. Boys & Girls Club of Pembroke for after-school programs for children and youth in Pembroke, Laurentian Valley, Petawawa areas - $30,000.
b. Petawawa Military Family Resource Centre for pre-natal nutrition and post-natal programs - $10,000.
c. North Renfrew Family Services for family counseling services for residents of North Renfrew - $36,000.
d. The Grove Arnprior & District Nursing Home for Arnprior Hospital - adult day program for seniors in Arnprior, McNab-Braeside, Greater Madawaska and areas - $23,000.
e. Hospice Renfrew for hiring a volunteer co-ordinator – $20,000.
f. Renfrew County Sexual Assault/Rape Crisis Support Centre for hosting a 2 day conference to provide training and education for health, social providers, community members, allies and parents in order to better understand LGBT issues, improve accessibility, health and social services for lesbian, gay, bisexual and trans youths and adults living in Renfrew County - $10,450.
g. The Grind - Salvation Army Youth Centre for Monday to Wednesday programs - $10,000.
h. Phoenix Centre for Children & Families for Equine Therapy Program - $30,000.
RCUW Board Chair Shelley Rolland-Poruks advises "We continue to expand our reach throughout Renfrew County and the Board is very pleased to be able to fund the excellent work of these eight groups and organizations".
Cathi Fairfield, Chair of the RCUW Funds Distribution Committee says, "There is such a great demand for programming in our area that will improve the lives of residents and the RCUW is very proud to play a major role in achieving this important goal."
Our Mission
"We will identify and address the needs of our community by organizing the resources of community members to help one another."
Our Vision
"We shall be a dynamic, caring organization providing for the needs of the community through involvement, collaboration, innovation and financial support."
The Renfrew County United Way (RCUW) is a community of caring donors and energetic volunteers in eastern Ontario who work year-round to raise funds to achieve the corporation's mission. The United Way is committed to playing a leadership role in bringing the community together to deal with high priority issues so that positive social change can take place.
For additional information, please contact:
Shelley Rolland-Poruks, Board Chair - Renfrew County United Way
Cathi Fairfield, Board Member and Committee Chair, Funds Distribution Committee - Renfrew County United Way
Tel: 613-735-0436
Toll Free: 1-888-592-2213
---
United Way/CPAN to re-launch Festival of Trees in fight against child poverty
Renfrew County United Way (RCUW) and the Renfrew County Child Poverty Action Network (CPAN) have expanded their partnership to stamp out child poverty in Renfrew County. As part of this effort, RCUW and CPAN are pleased to announce the re-launch of Festival of Trees – a popular pre-Christmas family event that was held in Pembroke in the late 1990s and early 2000s. The event will take place November 24, 2012 in the Petawawa Civic Centre, Petawawa, Ontario. All proceeds will be directed towards the fight against child poverty in Renfrew County.
Businesses, organizations and individuals are invited to assist with the Festival by becoming sponsors and/or volunteers. Please take a few minutes and review the attached brochures.
United Way Board elects new Executive
Renfrew County United Way's Board held its annual organizational meeting on April 4, 2012 at which time a new executive committee was elected and members of board standing committees were selected.
Leading one of Renfrew County's largest charity organizations for 2012-2013 season will be Bob French (Deep River), as Board Chair, Carole Devine (Eganville) as Vice-Chair, Mike Wright (Petawawa) as Past Chair, Gwen Greenstock (Petawawa) as Executive Secretary, Barbara Borutskie (Killaloe) as Treasurer and Chair of the Campaign Cabinet, and Cathi Fairfield (Arnprior) as Chair of the Funds Distribution Committee.
Other re-elected members of the Board are Shelley Rolland-Poruks (AECL), Loreen Russell (KI-Pembroke), Sue D'Eon (Deep River), Doug Steeves (Cobden), Fran Moyles (Petawawa), Major Stena Tarrant (CFB Petawawa), Krista Helferty (Renfrew), Laura Bannister (Deep River), and Shallan Dament (Pembroke representing the Generation Next Cabinet).

United Way Announces New Name
The United Way announced on March 05, 2010, that its corporate name had changed to "RENFREW COUNTY UNITED WAY" from United Way/Centraide of the Upper Ottawa Valley Inc. (UWUOV).
In announcing the change, United Way board chair, Mike Wright said the new name better reflected the region the agency now serves. UWUOV was incorporated in 1971 to fundraise on behalf of a number of health and social agencies delivering services in a region stretching from Pembroke/Petawawa to Whitney. In 1997, several large companies in Arnprior invited UWUOV to manage the proceeds from their United Way workplace campaigns and thus Renfrew South was added to the corporation's area of responsibility. In 2008, the Deep River District United Way, which had been serving North Renfrew for many years prior to the creation of UWUOV, suggested the two organizations merge operations. Following a year of discussions, the two organizations amalgamated effective 2009 January 01 to provide unified United Way services in Renfrew County.
The name change was officially sanctioned by the Province of Ontario through an amendment of the corporation's Letters Patent in July of 2009. However, with an impending move to new facilities and to avoid confusion during the 2009 fundraising campaign, it was decided to delay the announcement until early in 2010.
United Way Moves to New Location
Renfrew County United Way celebrated more than a name change on March 05, 2010, when volunteers and staff of the agency were joined by about seventy community and business leaders to officially open its new offices in the Westview Business Centre at 1330 Pembroke Street West in Laurentian Valley.
Officiating at the ribbon cutting ceremony to inaugurate the new office was United Way board chair, Mike Wright, along with Reeve Jack Wilson of the Township of Laurentian Valley, the Deputy Mayor of the City of Pembroke (Les Scott), the Deputy Mayor of the Town of Petawawa (Ed Chow) and Cheryl Gallant, MP for Renfrew - Nipissing - Pembroke.
"We are pleased to have you join us in this celebration of the United Way's growing mandate in Renfrew County", said Mike Wright. "Our new location provides us with much needed additional space within which we can provide improved service – not to mention the fact that this location offers better parking for our staff, volunteers, visitors and donors." Wright pointed out that it was fitting that a new home had been found in Laurentian Valley as it was located between communities that provide the United Way with the bulk of its donations. "
United Way Announces Funding for 2010/11
Renfrew County United Way announced on March 05, 2010, that donor generosity during the 2009 Campaign will enable it to make available over $320,000.00 during 2010/11 to help deliver health and social services in the region.
"As a federated fundraiser, the United Way works on behalf of other non-profit agencies to address a variety of human service needs," stated board chair, Mike Wright. "In fact, since it was established in Renfrew County, the United Way has raised over $15 million for re-distribution in our communities. The bulk of United Way donor dollars has gone to local member agencies while smaller amounts have also been distributed to agencies in other parts of Canada as designated flow-through dollars per our donor's wishes".
For the 2010/11 fiscal year, the United Way has committed $220,000.00 in Program Funding to twelve Member Agencies. These funds will help support a variety of services throughout Renfrew County including counselling for men and women in abusive relationships; day camps for special needs children; counselling for individuals and families dealing with personal or emotional difficulties; and, parent/child drop-in programs.
The Renfrew County United Way also announced that funds were available to any registered Canadian charitable agency operating in Renfrew County to meet emergent community needs. The Community Support Fund will provide a total of $20,000.00 to support one-time needs to a maximum of $1500.00 per initiative. As well, $30,000.00 has been set aside in the Project Fund that in the past has helped provide, among other initiatives, start-up funds for the Petawawa Centennial Family Health Centre and support to retrofit two vans, operated by Carefor Health & Community Services for non-emergency patient transfers in the county, with wheelchair lifts.
"While this level of funding is significant and covers a lot of needs", said Mike Wright, "the United Way Board felt that more was needed to ensure long-term community support. Building the capacity of communities to react to and resolve significant issues and needs, and more importantly to strive to identify the root causes of issues, is a more sustainable approach to problem solving than merely throwing more and more scarce resources at the symptoms."
As part of the United Way's commitment to follow through with the high priority needs arising out of its 2007 Community Matters' public consultation initiative, Board Past-Chair and chair of the United Way's Planning & Assessment Committee, Etienne Lantos, announced the establishment of a "Strategic Priorities Fund". The $23,329.00 the Board authorized for this fund will be used, along with other stakeholder resources, to focus on community-driven initiatives that fall within six broad strategic priorities, including youth, child poverty, transportation, medical services, seniors and safe affordable housing.
To address the need for sustainability of community support and to stress the need for total community commitment to address complex issues, Renfrew County United Way further announced that it was joining forces with the newly-formed Pembroke Petawawa District Community Foundation to establish a United Way Endowment Fund within the Foundation's investment portfolio. The United Way committed over $27,000.00 to establish this endowment, the principal of which will remain in perpetuity, while the interest eventually will be made available for investment in future community development that addresses high priority needs. In announcing the endowment fund, Bob French, Board Vice-Chair, invited other members of the community to join with the United Way in building up the fund to a level that will result in meaningful amounts of working capital (e.g. interest). "It is important that community members besides the United Way invest in the community through this fund. The endowment fund is an excellent vehicle to ensure that donor giving can grow for future benefits," said French. The United Way, through its amalgamation with the former Deep River District United Way, is working in a similar way with the Deep River District Community Foundation to provide long-term benefits to the communities it serves.